The reference work on the architecture of César Manrique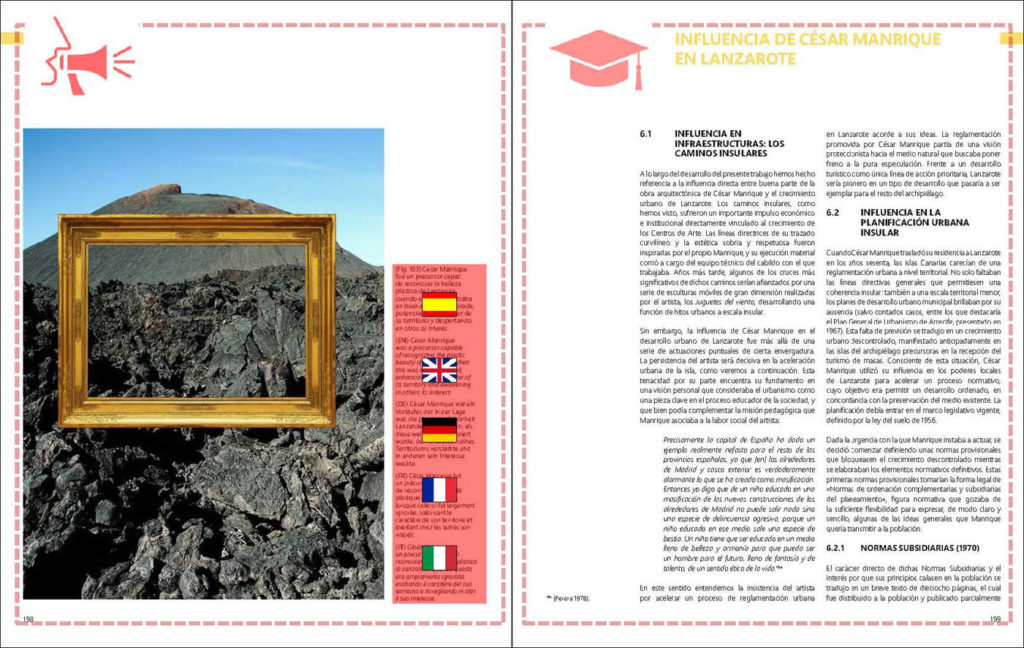 The book César Manrique, territorial acupuncture in Lanzarote is based on the doctoral thesis carried out by Alejandro Scarpa, considered the reference specialized work on the architecture of César Manrique. Without losing the rigor of the research work, each page of the Spanish text is accompanied by abundant explanatory images and summaries written in a multilingual version. In this way, the work responds to the interests of the specialized public, as well as those who wish to have a synthetic knowledge of Lanzarote and Manrique's architectural work.
Currently, the book is on sale exclusively at local art centers and bookstores, some of which allow for on-line purchase or under request by email (Bookstores interested in distributing the book can apply here).
Selected pages:
Complete reference of the book (according to UNE-ISO 690):
ALEJANDRO SCARPA, 2019. César Manrique, acupuntura territorial en Lanzarote. Arrecife: Centros de Arte, Cultura y Turismo del Cabildo de Lanzarote. ISBN 978-84-12-00223-2.
Extract from the interview made by Mar Arias for the CACT of the Cabildo de Lanzarote.
César Manrique. Acupuntura Territorial en Lanzarote is an informative version of his own doctoral thesis, why did you choose this topic? Why Manrique and why Lanzarote?
From my first visit to Lanzarote, I was fascinated by its unique landscapes and by certain examples of local architecture, which turned out to be the work of César Manrique. I was surprised that I didn't hear about these works before, during my studies in architecture in Madrid, and I wanted to study them in depth. However, although I was able to consult numerous texts of an informative nature or focused on other artistic aspects, I did not find a rigorous and impartial monograph of his architectural work that included planimetric and technical information.
As a result, I contacted the César Manrique Foundation and travelled to Lanzarote for several weeks to look for documentation on the works. What I discovered was soon gaining weight, also awakening the interest of the academic and professional world around me. All of this suggested that I translate my research into the study you refer to, which took me more than three years: the first doctoral thesis in architecture on Manrique's work.
Who was César Manrique to you?
César Manrique was a sensitive person who knew how to transmit his passion for beauty to those around him. I am impressed by his influence even decades after his death, transforming the lives of hundreds of thousands of inhabitants of the island and leaving a mark on more than fifty million visitors who have passed through his works. I believe that Manrique is an example for all of us of how one person, with constancy and determination, can transform his environment.
How did you work for the creation of this work?
The work began with the analysis of more than ten thousand pages of text, contrasted with nearly seven hundred press articles of the time and other documents recovered from official sources. This first stage was complemented by a series of interviews conducted with a good part of Manrique's close circle and his former collaborators, as well as with the management team of the César Manrique Foundation, resulting in more than thirty hours of recordings with abundant unpublished elements.
In addition, as a result of my interest in understanding the repercussions of Manrique's work in the current context of architecture, I recovered the testimony of various professionals who had been confronted with the works analysed -including renowned architects such as Álvaro Siza, Jacques Herzog, Frei Otto, Fernando Menis and Kengo Kuma-.
All this was captured in a doctoral study, later summarized and accompanied by abundant graphic documentation to make it accessible to the general public, giving birth to the book César Manrique, territorial acupuncture in Lanzarote.
For you, does the Manrique architect stand out above the rest, the painter, sculptor, designer…?
I think that the richness of his production is directly related to his multidisciplinary character, so I don't think these facets should be dissociated. Manrique would be a global artist who transcends limiting labels, having made architecture, sculpture and painting, and even designing the working clothes of his Art Center staff – just as Michelangelo did centuries before for the Vatican with accomplishments in all those domains, including the creation of the Swiss guard uniform. In that sense, Manrique has recently been defined in academic circles as a Renaissance artist.
What sets him apart from other architects and contemporary artists?
That he knew how to anticipate. As far as architecture is concerned, its integration of an ecological perspective and respect for the landscape, as well as the use of local materials, contrast with a good part of the tourist developments of the time. As far as art is concerned, examples such as the first phase of Jameos del Agua or its Casa de Tahíche would be ahead of the first commonly recognized examples of the artistic movement known as Land Art.
Do you think Manrique could have done everything he did on the island at the present time? Would they have allowed it?
It is clear that the problems of Lanzarote at the time – such as the lack of drinking water, the absence of adequate infrastructure, or the shortage of qualified personnel (there being, for example, only three architects in 1969 to cover all the island's needs) – were quite different from those of today. But I think that their determination and inventiveness would have dawned today, just as they did yesterday, manifesting themselves in ways appropriate to the circumstances of the moment.
Is Manrique's work still relevant today? Do you think he has influenced other architects?
Yes, Manrique's architecture responds to contemporary issues, such as the creation of sustainable architecture with few resources, proposing original ideas and forms without losing the thread of local tradition.
I believe that today we have enough historical perspective to be able to better understand his work, as suggested by the fact that the aforementioned renowned architects have expressed themselves for the first time about his values. In my opinion, Manrique's work deserves to be more widely known, transcending the local sphere and entering decisively into the academic and specialised sphere. The book César Manrique, territorial acupuncture in Lanzarote and the academic articles derived from it are a clear example in this sense, having introduced Manrique's work in the libraries of prestigious academic institutions such as Harvard, Columbia or the Royal Institute of British Architects.
What place would the island's Art Centers occupy in his work?
The Art Centers occupy a primordial place, as an example of the utopia advocated by him, which intervene at an insular level as needles for urban and territorial acupuncture.
The choice of the word acupuncture… to what does it obey?
The analogy with acupuncture alludes to the wise intervention in a few vital points, referred in our case to the repercussion of the Art Centres in Lanzarote. This name is inspired by the writings of the Brazilian architect and urban planner Jaime Lerner.
What other examples of urban acupuncture could you mention?
The Eiffel Tower in Paris, the Güell Park in Barcelona or more recently the Guggenheim Museum, which turned the city of Bilbao into a tourist destination for nearly one million visitors a year.
Tell me about the book, how did you structure it?
On the one hand, the book had to respond to the diverse themes that constitute its respective chapters, which can be read as independent works: Lanzarote; Manrique's biography; architecture developed by him; later influence on the development of the island, and conclusions.
On the other hand, the book had to respond to both the specialized and the profane public, being able to be consulted as a study book or a travel guide. To this end, each double page includes abundant explanatory images and summaries in a multilingual version along with the main text.
In addition, as a tool associated with the book, I created manriquelanzarote.com. This website allows a first approach to Manrique's work, presenting free extracts from the book and exclusive content, such as an interactive map of Lanzarote that locates and explains all the architectural works carried out by Manrique on the island.